Photographier au Japon et a Tokyo a toujours quelque chose d'un peu particulier, tant le regard des photographes japonais contemporains, a commencer par Daido bien sur, a été fondateur ou révélateur pour des générations de photographes. Pour moi, ma première visite d'une exposition de Daido a été un choc, même si curieusement je n'ai rien intégré, a priori, de son langage a ma propre pratique. Ses travaux suscitent toujours un enchantement et une fascination, ou se mêlent parfois un sentiment de redite, Daido fait du Daido, et d'admiration pour la créativité et l'enthousiasme, toujours présent. Surtout, il a permis comme Araki et quelques autres,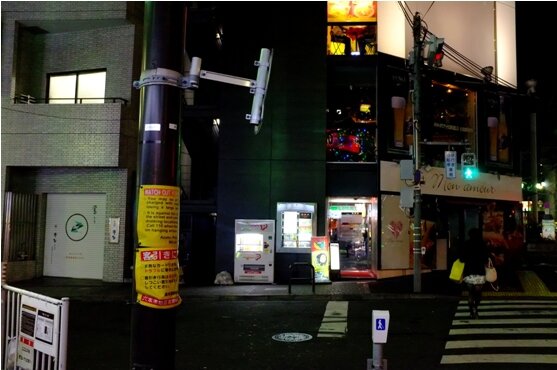 de libérer, de désinhiber la prise de vue chez beaucoup, (au risque parfois de tomber dans le gimmick visuel), ce qui par certains aspectes m'a toujours rappelé, au moins dans l'esprit de creativite et de decouverte, les photographes des années 30, Rodtchenko en-tête.
En séjournant quelques jours a Tokyo, en se promenant dans cette ville très graphique, aux immeubles modernes et carres qui cassent la rondeur des collines et des ruelles qui serpentent, aux billboards et aux lumières criardes , aux passants toujours presses, on saisit un peu mieux comment le dynamisme des photos se fond avec la ville.
Ensuite, il faut s'approprier le territoire, y trouver son compte, son atmosphère, sa vision…
Dans cette série, qui fait écho a une première ébauche rapide d'il y 5 a 6 ans, j'ai pris le parti de la couleur, de la nuit et de ses couleurs parfois tres pastel, des fantômes qui me semblent parcourir cette ville en courant dans l'absurdité.
A suivre…
______________________________________________________________
Shooting in Japan and in Tokyo has asways been something a bit special, since the photographic vision by Japanese contemporary photographers, starting by Daido of course, has been seminal for many of us.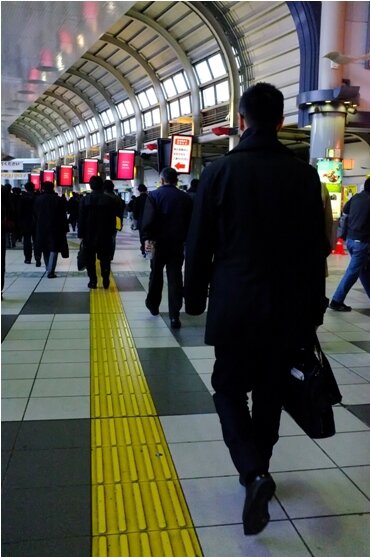 I will always remember my first visit to an exhibition by Daido, the brutal shock I felt, even if very surprisingly, I have not really integrated any piece of his language in my own practice afterwards. Looking at his works, even at his recent projects, has always been pleasure and moments of fascination, mixing the scepticism of a déjà-vu feeling (Daido is doing Daido's), and admiration for never falling creativity and enthusiasm. He was the one, with Araki and a few others, who brought freedom and uninhibition when shooting, (with sometimes the risk of creating gimmicks), in a creative mindset that reminds me the photographers of the 30ies, although with a totally different style and perspectives, starting by Rodtchencko.
When staying in Tokyo, walking in this very graphic city, with its modern and square-shaped buidlings breaking the roundness of the hills and of the winding streets, billboards and staring lights, passersby in a hurry, you can better feel how the dynamism of the photography fusions with the city.
Then, as usual, you have to find your own territory, your own way, your atmosphere, your vision...
In this series, which is echoing a first sketch done a few years ago, I wanted to shoot in color, and find these ghosts who seems to roam around the city, running into absurdity.
JP